Campaign Nonviolence Week of Action: September 20-27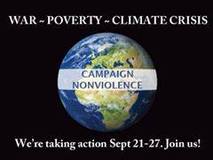 Abolish War
End Povery and Racism
Reverse the Climate Change

Take action this week to build a better world by participating in any of these local events:
Sermon: "Whose Lives Matter?" - Sunday, Sept. 20, 10am, First Congregational Church, 1985 Louis Rd., Palo Alto. This sermon by the Rev. Eileen Altman will begin Campaign Nonviolence local Week of Action by exploring issues of justice.
"White Like Me" Documentary and Discussion: Tuesday, Sept. 22, 7pm, First Congregational Church, 1985 Louis Road, Palo Alto. This 1 hour film by Tim Wise on race and privilege will be followed by a discussion on issues of race, racism and white privilege.
Climate Justice: Response to Pope's Congressional Address: Thursday, Sept. 24, 12Noon, Midpeninsula Media Center, 900 San Antonio Rd., Palo Alto. Join the studio audience immediately following Pope Francis' message to the U.S. Congress. Hear a panel of local and religious climate activists, and live reports from Washington D.C.'s Catholic Climate Covenant activists and members of the Moral Action on Climate team.
Protest Nuclear Weapons at Lockheed Vigil: Friday, Sept. 25, 12-1pm, Lockheed Space Systems at Mathilda Ave. and Lockheed Martin Way, Sunnyvale. In this silent, nonviolent vigil we will stand in witness against the destruction and death perpetrated by Lockheed Martin - the largest manufacturer and exporter of military weapons.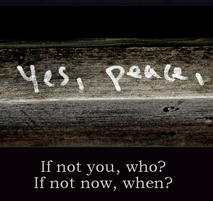 Quaker Harvest Festival: Saturday, Sept. 26, 9am-4pm, 957 Colorado Ave., Palo Alto. This annual fair with music, food, plant and book sales benefits the Friends Committee on Legislation for California, which advocates for peace and justice issues in our state.
Sermon: "A Subtle Voice" - Sunday, Sept. 27, 9:30 & 11am, Unitarian Universalist Church, 505 East Charleston, Palo Alto. Recognizing that religion can both stimulate and counteract violence, Rev. Amy Zucker Morgenstern will ask, what are our religion's resources for un-making violence.
Labyrinth Peace Walk: Sunday, Sept. 27, 10:30am-12:45pm, Unitarian Universalist Church, 505 East Charleston, Palo Alto. In honor of the U.N. Peace Day (9/21) and concluding Campaign Nonviolence Week of action, come walk the labyrinth with your wish for peace and nonviolence.
All events are free and open to the public.
If you or your community would like to join the Campaign Nonviolence Week of Action September 20-27, please let us know by emailing diana@multifaithpeace.org with information about any events, studies, prayer services or other gatherings on nonviolence that are open to the public.