70 Years of Nuclear Weapons - at what cost?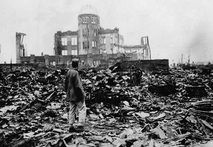 Livermore Nuclear Weapons Lab Witness and Action
August 6, 8am. Vasco Road at Patterson Pass Road, Livermore
Daniel Ellsberg, Country Joe McDonald, Taiko drumming, Japanese Bon Dance, Nonviolent Action
Today, after 70 years, nearly 16,000 nuclear weapons - 94% of them held by the USA and Russia - continue to pose an intolerable threat to humanity and creation. It is time to speak out!
Click here to download flyer about the August 6 Livermore Witness.