Stop New Ban on Muslims and Refugees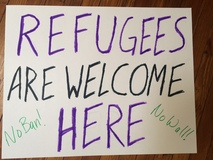 This week a new Presidential Executive Order renewed the assault on refugees, especially those from Muslim-majority countries. Friends Committee on National Legislation furnishes background on the ban. For CAIR's (Council on American Islamic Relations) analysis, press conference and links to the actual text, click here.
This is not who we are as Americans and contradicts the central values of our many religious traditions, all of which teach us to welcome the stranger, show compassion to those in need, and respect the dignity of all people.
Please take a moment to do one or more – or all – of the following to oppose the new travel ban:
·
Call the White House comment line
(202-456-1111 or 202-456-1414) and tell President Trump that you are profoundly opposed to this policy.
Give the President a strong and clear message:
"As a person of faith, I oppose the refugee ban and believe we need to be doing more – not less – to support refugees. My faith moves me to show compassion to those in need and embrace the stranger as a moral imperative. My identity as an American leads me to insist that sheltering immigrants is one of our nation's proudest traditions." HIAS (guided by Jewish values, working for the protection of all refugees) provides some
script ideas and a follow-up electronic message option.
·
Call or write to your Congressional Representative and Senators
.
Click here
for contact information for our local Congresspeople and Senators. The ACLU offers an
easy process for emailing your senators
,
but calling always carries more impact.
Do both!
·
Write a letter to the editor of a newspaper
. It is important to keep the public discourse about the injustice of this sort of action strong. We must not allow such discrimination and inhumane exclusion to become normal or acceptable. The Friends Committee on National Legislation has talking points, writing tips and contacts for local newspapers. Just
click here
.