Life goes on across this country, every day, for most people, as though we are not at war. What would it take to get people to take just two minutes, across the country, together - to remind everyone that we are at war?
You say you oppose the war, could we get you to spend just two minutes doing something about it? You say you support our troops, could we get you to stand outside for two minutes to salute them? You say you can't figure out what the right answers are. Could we get you to spend two minutes praying for an answer?

What if for just two minutes, across this entire nation, every single person who wants peace would stop whatever they were doing, step outside, and stand somewhere, in public, in solidarity, together in the same wish - for peace? What if during those two minutes, church bells rang across America? Can we convince you to sacrifice just two minutes of your life to remember the sacrifice so many have made in this war? Can we get you to take one hundred and twenty seconds to cry out to God and country that enough is enough?

Every day across the entire world, U.S. soldiers who happen to be outside as the bugle plays retreat stop whatever they are doing and salute the flag as it is lowered. Nearly 4,000 American soldiers have lost their lives in this war. 25,000 have been wounded. 100,000 are suffering from PTSD. Hundreds of thousands of Iraqis have died. Millions are refugees. At 11:30am on September 21st, we're inviting you to take two minutes and do something for peace. Wherever you are, whatever you are doing, at 11:30am just step outside for two minutes. Maybe you'll want to press your hand to your heart. Maybe you'll want to bow your head in prayer. Maybe you'll want to cry out. Maybe you'll want to hold someone else's hand and sing. Maybe you'll want to stop traffic.

Will you take two minutes with millions of other Americans to stand outside on September 21st at to show that you care?

Or have we asked you to sacrifice too much?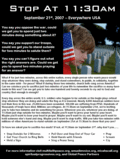 Click here for a flyer you can post to let other people know about this.
In Palo Alto California we will gather at the corner of Embarcadero and El Camino at 11:30am. Will you join us?