CAIR Information about new Muslim Ban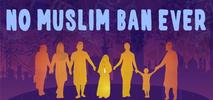 Our colleagues at the Council on American Islamic Relations (CAIR) California/San Francisco Bay Area have issued a very helpful Community Advisory on the new discriminatory ban signed on Sunday, Sept. 24, 2017. Click here to download.
What you can do:
Join the Bay Area No Muslim Ban Ever vigil in San Francisco on Monday, Oct. 9, 6-8pm.
Submit comments on "Extreme Visa Vetting" to Trump Administration. Click here for CAIR's helpful background and suggested comment prompts. Please join us in a loud and clear message that we people of faith we stand against this anti-Muslim, anti-immigrant and anti-refugee proposal.
Learn more about efforts by visiting www.nomuslimbanever.com and get involved.