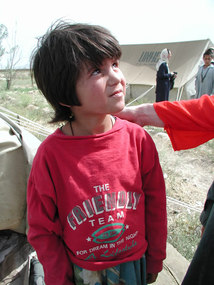 The following are the words of children compiled by members of the steering committee of Multifaith Voices for Peace and Justice. They come from children in Pakistan, Afghanistan, Iraq, Jordan, Israel, Palestine and Canada. All of these children are living in the midst of war.
We thank the Rebuilding Alliance (and especially intern Bryce Druzin) for bringing us many of these messages from partner organizations like Other Voice - Sderat, Al Basma Club for the Disabled in Gaza, the Rachel Corrie Sports Initiative and the UNRWA School for Girls in Gaza, and the children at the Al Aqaba Kindergarten in the West Bank.
Other messages from children were gathered through personal interviews by Deborah Ellis, an author whose award-winning work includes the Breadwinner trilogy, novels that portray the life of a young Afghan girl, pretending to be a boy so that she can feed her family. In Ellis' Three Wishes, Off to War, and Children of War, she brings us directly into the daily lives, hopes, dreams and fears of Palestinian, Israeli, and Iraqi children, plus she shares the voices of American and Canadian children whose parents are stationed in Kuwait, Iraq and Afghanistan.
We encourage you to read these words and if you'd like to respond, please submit a comment. We will gather those comments and as possible and appropriate, share them with the children.
These and more were shared during a public worship service on March 21st, 2010 at 2pm at Lytton Plaza in Palo Alto California. The gathering was hosted by the Palo Alto Friends Meeting and Multifaith Voices for Peace and Justice. Together, we heard their words, prayed for peace, and committed ourselves to continuing our work to bring about a world where children won't have to be afraid to sleep at night or face the terrors of trying to live through another day at war.
Click each of the links to read the words of children at war.