Israeli-Palestinian Joint Memorial Ceremony 2021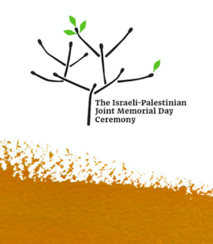 Tuesday, April 13, 2021 via web streaming
10:30am Pacific Time
Sharing Sorrow, Bringing Hope
Join hundreds of thousands of people from around the world in what is being called the biggest Israeli-Palestinian peace event in history. The Joint Israeli-Palestinian Memorial Day Ceremony is hosted by Combatants for Peace and Parents Circle-Families Forum and we are proud that Multifaith Voices for Peace & Justice is an official sponsor this year.
Together we declare that War is Not an Act of Fate - but a Human Choice!
Last year 200,000 people participated in the live broadcast event and over one million people streamed it afterwards. This year the Ceremony will take place virtually, broadcast live from Tel Aviv and Ramallah.
Click here to register for the Israeli-Palestinian Joint Memorial Day Ceremony, April 13, 2021, 10:30am-12:30pm Pacific Time.
Yom Hazikaron, Israel's Memorial Day, is a solemn day on which Israelis remember those they have lost in the years of war and conflict. Often, this remembering is infused with the despairing narrative that "we have no choice but to live or die by our swords." Traditionally, the immense suffering of Palestinian families is not acknowledged, leading to dehumanization and further despair. At this Ceremony, Israelis and Palestinians grieve together for the losses that all have suffered. By acknowledging the pain of those living on the other side, the Ceremony offers us the choice to walk a new path: the path of respect, equality, freedom -- and ultimately peace. In this time of immense anxiety and separation, the upcoming Joint Memorial Day Ceremony offers hope for a better future.
Speakers will include Palestinian and Israeli activists, advocates, artists, and bereaved family members who have transformed their adversity and loss into constructive action and care for each other's histories and struggles.
To read more about the history and purpose of the ceremony from the Combatants for Peace website, click here.