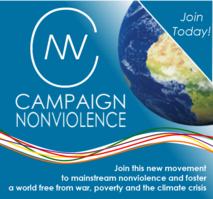 Multifaith Voices for Peace & Justice is excited to join Campaign Nonviolence (CNV), inviting people of faith, conscience and good will to build a movement for peace, justice, and environmental healing. Campaign Nonviolence is endorsed by Nobel Peace Prize winners Desmond Tutu and Mairead Maguire, and the late civil rights leader Vincent Harding. Beginning on September 21, the International Day of Peace, CNV will launch a nationwide week of study, action, and peaceful public witness, calling for concrete changes toward reversing the climate crisis, ending poverty and abolishing war.
MVPJ is encouraging and coordinating local groups to participate in CNV, each in their own way. During the week of September 20-28, many Peninsula congregations will spotlight concerns about peace, justice or environmental healing through worship, prayers, forums, youth and adult education, film nights, and service or advocacy projects. Topics chosen already range from climate change to gun control. MVPJ will help communities with ideas and resources (films, speakers, material), publicity and media coverage, and we will host a peaceful public witness event at the end of the week.
Will you join us? Contact Diana Gibson at diana@multifaithpeace.org for more details or to let us know how your faith community will be participating.
"The choice is no longer between violence and nonviolence, it's nonviolence or non-existence"

-- Martin Luther King, Jr.
Connecting the dots between so many pressing issues, CNV understands active nonviolence in the broadest and most beautiful sense. Beyond 2014 CNV will continue to strengthen this people power movement for peace, economic justice, healing the planet, and for the well-being of all. For more information about CNV and to sign the CNV pledge, go to pacebene.org/campaign-nonviolence.