Redwood City Police Department's Own Military Vehicle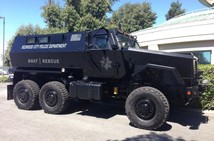 On July 1, 2014 the Redwood City Police Department received a Mine Resistant Ambush Protected (MRAP) vehicle from the Department of Defense's "1033 program." This program distributes excess military equipment to civilian police departments. The range of material is wide, including medical equipment, tractors, MRAPs, and weapons. Many people do not think that vehicles and weapons designed for war belong with civilian police departments, believing instead that officers in Redwood City and beyond are first and foremost peace officers.
There is already a movement to end part of the 1033 program. Congresswoman Jackie Speier is a co-sponsor of Representative Hank Johnson's Stop Militarizing of Law Enforcement Act (HR 5478). This act would, among other things, "end the transfer of certain weapons grade military equipment to local law enforcement," according to a letter from the Congresswoman in early October. Rep. Speier also writes that she is, "deeply troubled that the Pentagon has billions of dollars in excess inventory to give away in the first place."
Redwood City officials refer to the MRAP Redwood City received as a rescue vehicle, and state that this vehicle would only be used in extreme circumstances -- citing the tragic movie theater, school, and shopping mall shootings we have seen unfold in recent years. It is difficult to imagine how one would effectively navigate a MRAP inside a movie theater, however.
Read more to find out how you can do something about this issue.
The Rev. Katie Goetz, a former member of MVPJ's steering committee, now lives in Redwood City with her husband and 2 young children. Katie is very concerned about the militarization of her local police department. Here she shares part of the response she received from City Manager Bob Bell after she expressed her concerns to him, the mayor, vice mayor, and chief of police this summer:
"I want to assure you that the Police Department's sole intended purpose for this vehicle has always been to increase the safety of the community and its police men and women as they undertake the very mission the vehicle's name suggests--rescue. This vehicle provides officers with an effective shield as they respond to extreme circumstances that they could not otherwise enter into safely….The level of militarized ammunition and weaponry in the hands of criminals has also placed officers in positions of significant disadvantage as they attempt to protect members of the communities they serve. The Department will not use the armored rescue vehicle for routine police work, as a tool for intimidation, or to engage in anything but the most extreme threats to the safety of the public or its officers."

In response, Katie urges:
While this may sound good, I still don't want such vehicle in our cities. And I imagine you don't either. I fear that when a tool of war is present places that aren't war zones will be more likely to turn into them. Again, I want our police officers to be first and foremost officers of the peace.
As a mother I want my children protected at all costs. As a Christian, and a human being, I know that level of protection just isn't possible, nor is it desirable in the long run. My hope and my prayer is that as people of faith we place a higher value on community peace and justice – and trust of our public officials and servants – than we do on personal security.
I also invite you to visit our facebook page for links to various stories about RWC's MRAP, Davis's city council voting to send their MRAP back, and national stories about the 1033 program -- https://www.facebook.com/pages/Redwood-City-Doesnt-Need-an-MRAP/312033822335441?ref=hl
And please sign the change.org petition as well -- http://www.change.org/p/redwood-city-city-council-return-the-mine-resistant-ambush-protected-vehicle-mrap-received-through-the-1033-program-on-july-1-2014?utm_source=guides&utm_medium=email&utm_campaign=petition_created