Global Day of Action for Peace in Ukraine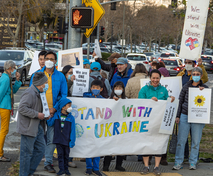 About 130 people gathered on the corners of El Camino & Embarcadero on Sunday, March 6 as part of a GLOBAL DAY OF ACTION FOR PEACE IN UKRAINE!
At the conclusion of the vigil, MVPJ steering committee members Rev. Eileen Altman and Ellen Stromberg offered prayer.
"Comfort the children and heed their cries... Make us a people who love our children, all of our children, more than we love greed, power and control." Click here to read Eileen's full prayer.
Ellen spoke of a conversation she had that morning (3/6/22) with Ukrainian Rabbi Julia Gris who had just escaped to Poland. While Gris has very little with her now, "What she does have is her understanding that the world is also made up of good people, who are kind and caring. Her hope is in the humanity of everyone reaching out." Click here to read Ellen's words and prayer.
Click here for regularly updated actions, donations, prayers and reflections in solidarity with the people of Ukraine.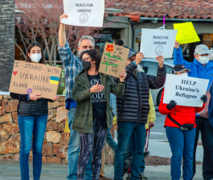 Thanks to Jack Owicki from ProBonoPhotos.org for these wonderful pictures! We have posted just a few here.
Click here to view the full album from this event on their website. There are some awesome ones that we can't display well here.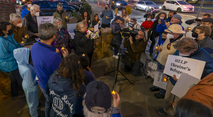 Click here to view a growing album of photos of Global Day of Actions from across the nation and around the world!
Thank you to everyone who participated.
Please continue to work and pray for peace in Ukraine, and the many other places in our world plagued by violence and war.