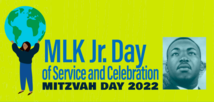 VIRTUAL PROGRAM!
Annual MLK, Jr Day of Service and Celebration
Monday, January 17, 10am-1:30pm
JOIN VIRTUALLY!

On Monday, January 17, 2022 Youth Community Service (YCS) will partner with the City of Palo Alto and the Palo Alto OFJCC to co-host The Dr. Martin Luther King, Jr. Day of Service and Mitzvah Day. Service projects are available to be completed at home or at a number of locations across the Mid-Peninsula region. The celebration will take place VIRTUALLY from 12noon-1:30 pm. MVPJ is pleased to be a sponsor of this event!
Click here for UPDATED details and registration link -- required for the celebration.
Schedule:
10am-12noon - Service Opportunities for All Ages - Click here
12noon-1:30pm -Community celebration of the Life and Legacy of Rev. Dr. Martin Luther King, Jr. (virtual; registration required)
The community celebration will include Supervisor Joe Simitian, East Palo Alto and Palo Alto Mayors, Rev. Dr. Debra Murray of First United Methodist Church, and youth speakers and performances.
MVPJ is excited to be a partner organization for this event!