Extemporaneous Speech by Julia Jackson, Mother of Jacob Blake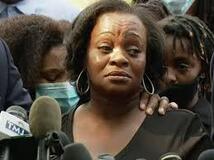 "I'm really asking and encouraging everyone in Wisconsin and abroad to take a moment and examine your hearts. Citizens, police officers, firemen, clergy, politicans: do Jacob justice on this level and examine your hearts.
We need healing.
As I pray for my son's healing - physically and emotionally and spiritually - I also have been praying even before this for the healing of our country.
God has placed each and every one of us here in this country because He wanted us to be here."
Click here to watch and hear Julia Jackson's full and very moving speech (August 25, 2020) on youtube.
"Everyone, let's use our hearts, our love, and our intelligence to work together to show the rest of the world how humans are supposed to treat each other.
America is great when we behave greatly."