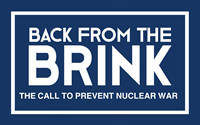 On May 26, 2020, with the encouragement of Multifaith Voices for Peace & Justice working with Menlo Park peace activist Judy Adams, Cecelia Taylor, the mayor of Menlo Park, signed a proclamation supporting a call for the federal government to take five specific steps to reduce the risk of nuclear war.
Then, on November 18, 2020, through the efforts of MVPJ and two Atherton peace advocates (Les DeWitt and former Mayor Malcolm Dudley), Atherton joined Menlo Park in supporting the call.
Entitled "Back from the Brink," this call was created by the Union of Concerned Scientists and Physicians for Social Responsibility, and has been endorsed by 250 organizations including the California State Legislature. Menlo Park and Atherton joined Los Angeles and seven other California cities to become the seventh and tenth California cities, respectively, to endorse 'The Call.'
Click here to download a PDF of the Op-Ed (July 31, 2020 in The Almanac) "Stepping Back from the Brink: Steps to reduce the risk of nuclear war" written by Richard Duda (of MVPJ) and Judy Adams about the call and Menlo Park action.
Click here to download a PDF of the Menlo Park Proclamation and the Atherton Proclamation.
If you are a resident of a city that has not signed the Back from the Brink call and would like to work with MVPJ on the best way to approach your city council, please contact us at info@multifaithpeace.org.
Back from the Brink: The Call to Prevent Nuclear War is a national, grassroots campaign that lays out five common-sense steps that the United States should take to reform its nuclear policy.