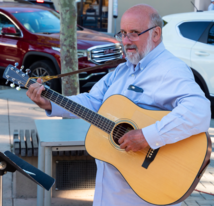 Chris Lundin: In Loving Memory
With deep sadness we share the news that Chris Lundin, longtime member of the MVPJ Steering Committee, loyal songleader, passionate and faithful advocate for peace and justice, and incredible friend and colleague, died on Jun 4, 2020.
Many of you will recognize the pictures of Chris leading songs with his guitar at MVPJ events, which he has done wonderfully and regularly ever since 2003 when his father, Walt Lundin, asked him to provide music for our 24-hour vigil in front of Palo Alto City Hall on the weekend before the U.S. attacked Iraq. (Walt Lundin was a founding member of MVPJ.) On countless occasions in the past 17 years, Chris' gentle spirit and gift of music invited us all to participate, and enriched almost every gathering we have had.
Shortly after the 2003 event, Chris "inherited" his father's role on our MVPJ Steering Committee. He has been our primary liaison with St. Thomas Aquinas Catholic Parish. Chris' commitment to peace strengthened our relationship with the Roman Catholic community both locally and beyond.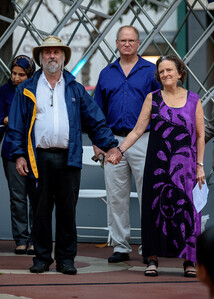 But Chris was so much more than a musician and a liaison, he was a wise leader, insightful colleague, and incredible friend to us all. His warm, inclusive presence was a gift to everyone. His humor was a delight when our work seemed so heavy. His patience and dedication unparalleled. His vibrant and energetic spirit led one MVPJ member comment that he seemed eternally young. His passion and commitment for justice and peace urged us to move forward with bolder and more faithful words and actions.
In rain or shine (we couldn't find pictures of him with umbrellas, but we have the memories), at dawn, dusk or high noon, on Lytton Plaza or King Plaza or marching on University Ave., in churches, synagogues and mosques, at trainings, teach-ins, protests and vigils, and tenaciously at almost every planning and organizing meeting, Chris was always with us.
At Chris' Memorial Mass, Fr. Matthew Stanley shared this quote from John Denver that fits Chris, and the gifts he gave us, so well.
"Muslic does bring people together. It allows us to experience the same emotions. People everywhere are the same in heart and spirit. No matter what language we speak, what color we are, the form of our politics or the expression of our love and our faith, music proves: We are the same."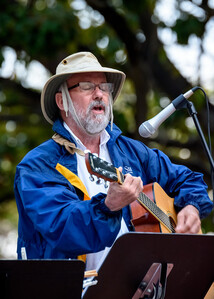 We express our sincere sympathy to Chris's whole family, and to his church community of St. Thomas Aquinas.
We lift up prayers of profound gratitude for the gift of his presence among us for so many years.
We commit to keep his spirit alive not only in our hearts, but in our continued work, so terribly needed, for justice and peace.
We will all miss him dearly.

Thank you to Dick Duda for the first picture of Chris playing the guitar. Thank you to Pro Bono Photography for the other two pictures, which were taken at our MVPJ September 11 Peace Picnie in 2017.