Honor Lives Lost Every Sunday 8-9pm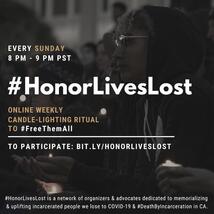 #HonorLivesLost
Online Weekly Candle-lighting Ritual
To #FreeThemAll
Every Sunday, 8-9pm PST
#HonorLivesLost is a network of organizers and advocates dedicated to memorializing and uplifting incarcerated people we lose to COVID-19 & #DeathByIncarceration in CA.
Click here to visit their Facebook page for more information.
You can join by Zoom or via Facebook livestream with both English and Spanish options.
This Sunday, May 31, brontë velez — Black healer, artist-ecologist, and co-founder of the incredible Lead to Life group, will be guiding us through a spiritual-political ritual, not to be missed.
From Buddhist Peace Fellowship: Organizers and advocates across the state have created this space, helping us come together to mourn lives lost, and send metta (lovingkindness) to families grieving the unnatural deaths of their loved ones. We hope this effort will support ongoing demands to release incarcerated people, who face a potential death sentence amidst the COVID-19 pandemic.