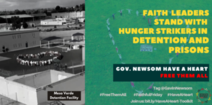 ADVOCACY: The Interfaith Movement for Human Integrity has created a "Have a Heart Toolkit," including a variety of ways for individuals to lovingly convey to Governor Newsom the urgency of releasing detainees from detention centers that are a dangerous breeding ground for the COVID. Click here to learn more, watch videos from people inside detention centers, and find out how you can join this effort! (Photo explanation: On April 10, immediately before joining the hunger strike, Mesa Verde dorm C created a heart formation on their yard that was captured by supporters on the outside.)
AID: Immigrants in our communities are suffering mightily during this time of COVID. In addition to health risks, immigrants are not eligible for several of the federal support programs, and are, in some cases, in desperate financial need. In other cases, immigrants are considered "essential workers" but not provided necessary personal protective equipment (PPE) or allowed to observe safety practices. Please consider donations to one of the following local organizations, or other programs you know are helping immigrants:

Sacred Heart Community Service
Day Worker Center of Mountain View
If you know of other programs that are doing advocacy or offering aid for immigrants during the pandemic, tell us about them! Email: info@multifaithpeace.org.