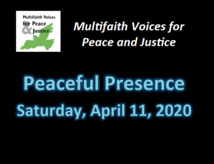 On Saturday, April 11, 2020, Multifaith Voices for Peace & Justice held its first virtual Peaceful Presence gathering. While we missed seeing each other as embodied, real people, the service, hosted by Eric Sabelman of the Palo Alto Friends Meeting, was beautiful! Through images, readings, prayers and music, we found a true Peaceful Presence. The added plus of such an event is that we can (somewhat) share it easily with all of you now.
Click here to download a PDF file with the slides of all of the images we saw and the readings and prayers we heard. At the end you will also find the sources of music Eric played.
Watch for an update with plans for our May 11 Peaceful Presence.
In the meantime, as the final reading reminded us, we can view the empty streets and parks as "the most remarkable act of global solidarity we may ever witness in our lifetime." (These are the words of a West Belfast Community Worker named Tommy Holland. Go to slide #30 in the PDF to read the whole quotation.)
With prayers for all who shelter, and for all who have not place or opportunity to shelter. We all belong to one another.