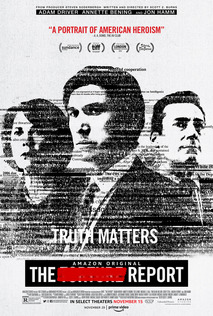 "The Report (which is available for streaming through Amazon) dramatizes the brutality of the 2002-2007 CIA torture program, as well as the political battle to make the failures of that program public," writes the Rev. Dr. Eileen Altman, a longtime member of MVPJ's steering committee and local pastor.
"Watching The Report is not easy, but it is nonetheless important viewing. Each of us must take seriously our obligation as citizens to take responsibility for the actions of our nation. All of us must push our leaders toward policies and practices which reflect the highest moral and ethical standards of our faith traditions, so that we might become a more perfect union."
Click here read Altman's full and powerful Opinion piece in Unbound: an interactive journal on Christian social justice.
Multifaith Voices for Peace & Justice will host a viewing of this film followed by discussion
on Sunday, March 8, 2-5pm.
See MVPJ's Calendar entry for more information.