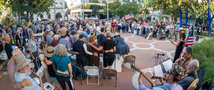 On August 11 local Jews and Quakers joined together to lead a powerful Multifaith Service of Lament and Public Worship with a Concern for Immigrants and Refugees. More than 200 people participated.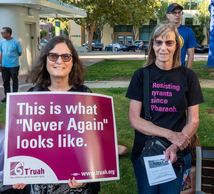 The Lament was part of a national effort that connected the 9th of Av (August 11th), the Jewish annual day of mourning over displacement, discrimination and murder of Jews through their history, with the experience of today's immigrants.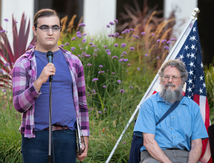 The Quaker Public Worship with a Concern for Immigrants and Refugees invited participants to sit in silence to listen to the Spirit which guides human affairs and inspires both immediate words and future action.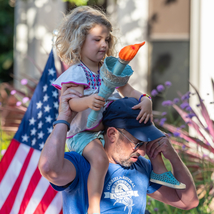 People of diverse faiths, ages, ethnicities and walks of life gathered for the service, appropriatedly held at King Plaza in Palo Alto.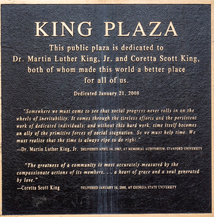 The sign at King Plaza includes these two quotations:
"Somewhere we must come to see that social progress never rolls in on the wheels of inevitability. It comes through the tireless efforts and the persistent work of dedicated individuals; and without this hard work, time itself becomes an ally of the primitive forces of social stagnation. So we must help time. We must realize that the time is always ripe to do right."
-- Dr. Martin Luther King, Jr., delivered April 14, 1967, at Memorial Auditorium, Stanford University
"The greatness of a community is most accurately measured by the compassionate actions of its members . . . a heart of grace and a soul generated by love."
-- Coretta Scott King, delivered January 16, 2000, at Georgia State University.

Many thanks to Jack Owicki of ProBono Photos for taking this pictures and allowing us to share them!
Click here to see all of the wonderful photos he took of this event.
This event was sponsored by T'ruah: Rabbinic Call for Human Rights, in partnership with Bend the Arc South Bay, Multifaith Voices for Peace & Justice, Palo Alto Friends Meeting (Quaker), and Beth Am, Etz Chayim, Keddem, Kol Emeth, Jewish Community Relations Council, National Council for Jewish Women San Francisco, and Sisterhood of Salaam Shalom.