On July 12, 2019 MVPJ hosted a vigil on behalf of immigrants, children and refugees as part of the Lights for Liberty campaign. Click below to see more photographs of the event. Many thanks to Jack Owicki from Pro-Bono Photography who took these wonderful pictures!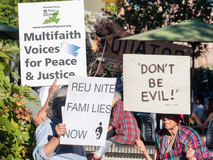 The program began with the blowing of the Shofar by Rabbi Ari Cartun and Derrick Kikuchi. The blowing of the shofar means to pay attention, and that something is wrong.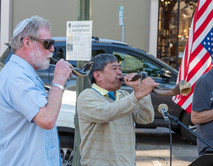 Speakers included Rev. Danielle Parrish from Spark Church in Palo Alto, Rabbi Ari Cartun, Lakshmi Tayyebi from the Bahá'í Community of Palo Alto (pictured below), Samina Sundas from American Muslim Voice, and Rev. Geoff Browning from First Presbyterian Church Palo Alto.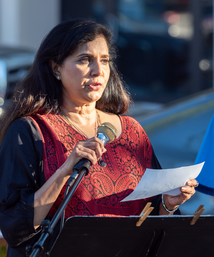 Signs included words from the teachings of diverse faith traditions about welcoming the stranger and caring for the immigrant.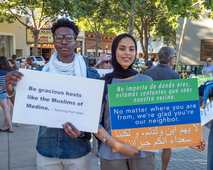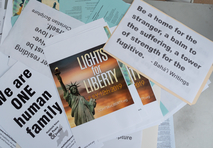 While the vigil offered a meaningful gathering and way to make our protest heard regarding the inhumane and immoral treatment of immigrants, children and refugees, there is tragically much still to be done. Watch for future events and calls to action. Click here to see all of Pro-Bono's photographs of the protest.