Whatever Happened to Nuclear Disarmament?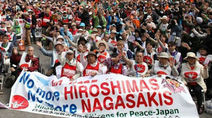 Tuesday, April 4, 7pm
Community Media Center, 900 San Antonio Rd., Palo Alto
70 years after the bombing of Hiroshima and Nagasaki, 9 countries in the world possess 15,695 nuclear weapons. Didn't we learn anything? Join a conversation with Jackie Cabasso, nuclear disarmament activist and Executive Director of the Western States Legal Foundation. Cabasso will report on the recent Non-Proliferation Treaty Review Conference at the United Nations, which she attended. She will also discuss the state of the disarmament movement, including the impact of the recent Iran deal.
Free and open to the public. Wheelchair accessible.
Sponsored by the Peninsula Peace and Justice Center.
Click here for event information.
To learn more about Jackie Cabasso, click here and scroll down.