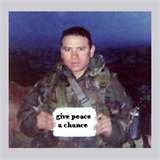 Our nation has now been at war for almost a decade. As our soldiers consider re-deployment or combat veterans return to rebuild their lives in light of their experiences in war, we are increasingly aware of the crisis of conscience some soldiers wrestle with and the moral injury some have experieced in combat.
In our founding commitments, MVPJ states that we "insist that war is a moral, ethical and religious issue involving matters of life and death for children, youth and adults who share our common humanity," and, "We pray, speak and act for the well-being of all people. Members of our own armed forces and the armed forces of all nations will be respected. It is in part on their behalf and for their safety that we say NO to war."
We are proud to partner with other organizations to support the discernment and struggles of conscience which our soldiers face, and to pray, speak and act for their healing and well-being.
The [http://conscienceinwar.org/; Truth Commission on Conscience in War] works to examine the questions of conscience facing our nation's service members, military regulations governing freedom of conscience, and the moral and spiritual injuries of war. Currently they are working with the VA, military chaplains and religious leaders to offer resources for addressing moral injury. [http://conscienceinwar.org/; Click here] to learn more.
[http://www.christianpeacewitness.org/sco-resource-kit; Christian Peace Witness] is committed to work for the establishment of selective conscientious objection based on their support of all who take steps of conscience to reject violence and killing. They have just recently posted an amazing [http://www.christianpeacewitness.org/sco-resource-kit; resource kit] which is multifaith in dimension. It includes legal resources and changing public policy on conscience in war, a speakers bureau listing, liturgies and prayers, and other useful information. [http://www.christianpeacewitness.org/sco-resource-kit; Click here] to access the online, interactive resource kit.