"Ghosts of Abu Ghraib" showing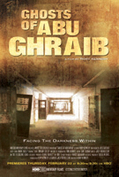 On Wednesday October 24th at 7pm, Multifaith Voices for Peace & Justice and the First United Methodist Church of Palo Alto will join with over 500 congregations nation-wide in watching the HBO documentary "Ghosts of Abu Ghraib" directed by Rory Kennedy. "Ghosts of Abu Ghraib" is an 80 minute film that digs beneath the headlines to investigate the psychological and political context in which torture occurred and asks critical questions about how it happened and how it affects America's credibility as a defender of freedom and human rights.
This film includes photographs from Abu Ghraib prison, including male nudity. These images and some of the interviews are extremely intense. This film is for mature audiences only.

First United Methodist Church is located at 625 Hamilton Ave. in Palo Alto.

Please join us in this event sponsored by the National Religious Campaign Against Torture. For more information about the national project see www.TortureIsaMoralIssue.org. For information about the screening at FUMC of Palo Alto please contact Katie Goetz katie@firstpaloalto.com or 650-323-6167.