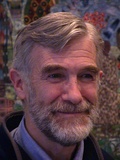 Join us for this wonderful opportunity for informal conversation with Ray McGovern on Wednesday, Oct 17, 6:30-8:30pm at the First Baptist Church, 305 N. California Ave. (at Bryant) in Palo Alto. The topic will be the role of people of faith in a time of war. The concern of a possible US attack on Iran will be discussed.
Ray McGovern worked as a CIA analyst for 27 years and gave the daily briefings to then-vice-president George H.W. Bush. He now is on staff at Church of the Savior in Washington, D.C., writing and speaking across the country for Tell the Word, "Speaking Truth to Power." Ray is co-founder of Veteran Intelligence Professionals for Sanity. His articles have appeared in The Boston Globe, The Christian Science Monitor, The Miami Herald, The International Herald Tribune, the Suddeutsche Zeitung, and the Berliner Tagesspiege, and he has appeared on the News Hour with Jim Lehrer on several different occasions.
A simple soup supper will be served. RSVP's are helpful to multifaithpeace@aol.org or call 650-569-3416.
$5-$15 donation requested, but no one turned away.