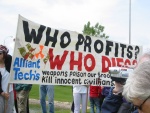 On March 25th, the people of Palo Alto had an incredible opportunity to hear from four amazing people:, former chief UN weapons Inspector in Iraq; RAY MCGOVERN, retired senior CIA analyst and part of the Church of the Savior in Washington, D.C.; FAIZA AL-ARAJI, Iraqi citizen and author of afamilyinbaghdad.blogspot.com and MEDEA BENJAMIN, Founder Global Exchange.

Craig Wiesner, a member of the Multifaith Voices for Peace and Jusice steering committee, wrote about the event in his personal blog at politicalcortex.com. [http://www.politicalcortex.com/story/2006/3/27/162524/129;Click here to read his perspective on the event.]
SCOTT RITTER was the UN's top weapons inspector in Iraq between 1991 and 1998. Before working for the UN he served as an officer in the US Marines and as a ballistic missile adviser in the first Gulf war.

He wrote the introduction to Neo-CONNED! Again, and will be signing copies immediately following the event.

"The important thing to know about Scott Ritter is that he was right." ­ Seymour Hersh

RAY McGOVERN served as a captain in the U.S. Army from 1962 to 1964 before working as a CIA analyst for 27 years. From 1981 to 1985 he conducted daily briefings for Ronald Reagan's vice president, George Bush.

Ray is a member of the Steering Group of Veteran Intelligence Professionals for Sanity and works for Tell the Word, the publishing arm of the ecumenical Church of the Savior in Washington, D.C..

FAIZA AL-ARAJI is an engineer who currently lives in Amman, Jordan.

She is Shia and her husband is Sunni. Her son Khalid, a student at Baghdad University, was arrested by Iraqi officials from the Ministry of the Interior without ever being charged. The family had to pay ransom to secure his release, and then fled to Jordan.

Faiza and her sons write a blog called A Family in Baghdad (afamilyinbaghdad.blogspot.com).

MEDEA BENJAMIN is the co-founder of Global Exchange and Code Pink and human rights activist, will introduce the speakers and join in the conversation. Since the U.S. invasion, Medea has traveled several times to Iraq to organize Occupation Watch International Center in Baghdad.

Co-sponsors include KPFA, Peninsula Peace and Justice Center, Global Exchange, West Bay Chapter of the Buddhist Peace Fellowship, Northern California Inter-religious Conference, United Muslims of America, Lamorinda Peace and Justice, and Mt. Diablo Peace and Justice Center.

U.S. TOUR OF DUTY, a non-profit project of Social and Environmental Entrepreneurs (SEE), supports the anti-war advocacy of Iraq veterans, military families, policy analysts, and performers by organizing public forums, developing communication strategies, and producing video/audio content.

Multifaith Voices for Peace & Justice is a grassroots interfaith peace group coming together from more than 36 faith communities to put our convictions into action by saying NO to war and YES to peace and justice. "A time comes when silence is betrayal and that time has come for us."

For more information call 650-569-3416 or visit www.neoconned.info, www.multifaithpeace.org and www.ustourofduty.org.

Click here to download a half-sized flyer (perfect for bulletins) or click here for a full-size flyer.