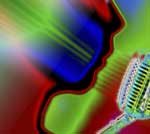 Where can you hear Christian rap, chanting of texts from the Qur'an, original Jewish peace songs, and gospel music all in one place? "Traditions of Peace: Uniting in Song" offers this unique opportunity on Sunday, October 2nd, 4:00 -5:30pm at the First Congregational Church, 1985 Louis Road (corner of Embarcadero) in Palo Alto.
The program will feature "Chaos Theory," a Christian rap group from Walls of Faith Ministries in East Palo Alto, the recitation of Islamic poetry, and the Covenant Community Gospel Choir led by the Rev. Dr. Isaiah Jones, Jr. (composer and performer of "God has Smiled on Me"). Jewish women from Congregation Kol Emeth in Palo Alto will lead songs for peace on the guitar. Musicians from St. Thomas Aquinas Roman Catholic parish will rock the house with songs calling for justice and love. Br. AbdulRahman Awadalla will chant passages from the Qur'an (the Islamic sacred text) in Arabic and English. The program is free and everyone is welcome.


October 2 is the birthday of Mahatma Gandhi, the Hindu leader for nonviolent social change in India. Several holy days for various faith traditions occur in the first few weeks of October, sparking this 4 part series "Traditions for Peace," which is sponsored by Multifaith Voices for Peace and Justice. Other participating groups include the Council on American-Islamic Relations (CAIR), Santa Clara County Council of Churches, American Muslim Voice, Palo Alto Ministerial Association and Pax Christi at Stanford. Information on future events in October can be found at www.multifaithpeace.org or by calling 650-569-3416.